Podiatry Resources and Patient Information
---
Patient Documents
The documents below require a PDF reader such as Adobe Reader, available for free.
To help speed up your visit, you can download our patient health questionnaire to fill out and bring with you to our office.
If you have received or will be receiving surgical treatment from us, you can read these guidelines for post-surgical care.
If you have questions regarding insurance coverage, copays, and patient responsibility, please refer to our policies. Our staff can help answer any further questions you may have.
Billing and Payment
If you have any questions about insurance or payment options, please contact us. Please note that any costs not covered by insurance are to be paid by the patient at the time of service. For more details regarding insurance coverage, please read our policies on patient responsibility.
Our billing is handled by SMB Medical Billing, who can be contacted at 866.514.0380. If you have billing questions or concerns that cannot be addressed by contacting the billing service, please contact us.
External Podiatry Resources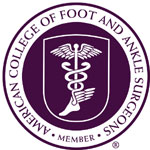 While we are always happy to answer any questions our patients may have, you may find the following resources to be helpful in describing any foot pain or issues you may be experiencing, as well as possible avenues of treatment to explore. While staff at South County Foot & Ankle has professional association with some of these organizations, please note that all content contained in the linked resources are produced and owned by their respective organizations.
Foot Health Facts
Produced by the American College of Foot and Ankle Surgeons, Foot Health Facts has extensive patient information on a wide range of podiatric issues.